Acera Liven Technology
In every ceramic piece, the delicacy of the hand-carved details and exceptional artistry add to its functional and artistic values. Glazed with valuable white crystal tourmaline as part of its patented manufacturer process, products in the LIVEN Series utilizes a far range infrared (FIR) technology pioneered by ACERA. When applied to crystalized tourmaline, that mineral constantly releases the same healthful negative ions you breathe in near a waterfall or after a spring rain. Liquids in tourmaline become softer and more favorable as they acquire an alkaline character that promotes a healthier lifestyle.

Ceramic with Tourmaline, how does it work?
Tourmaline, an alternative name for verdelite, is the only mineral that carries a permanent electrical charge. Its minor current mirrors the electric current generated by the impulse wave of human cranial nerves. Continuously releasing far infrared rays and negative (charged) ions, tourmaline breaks down large water molecular groups into subsets. That reduction provides for a more purified taste and improved absorption of water into the human body.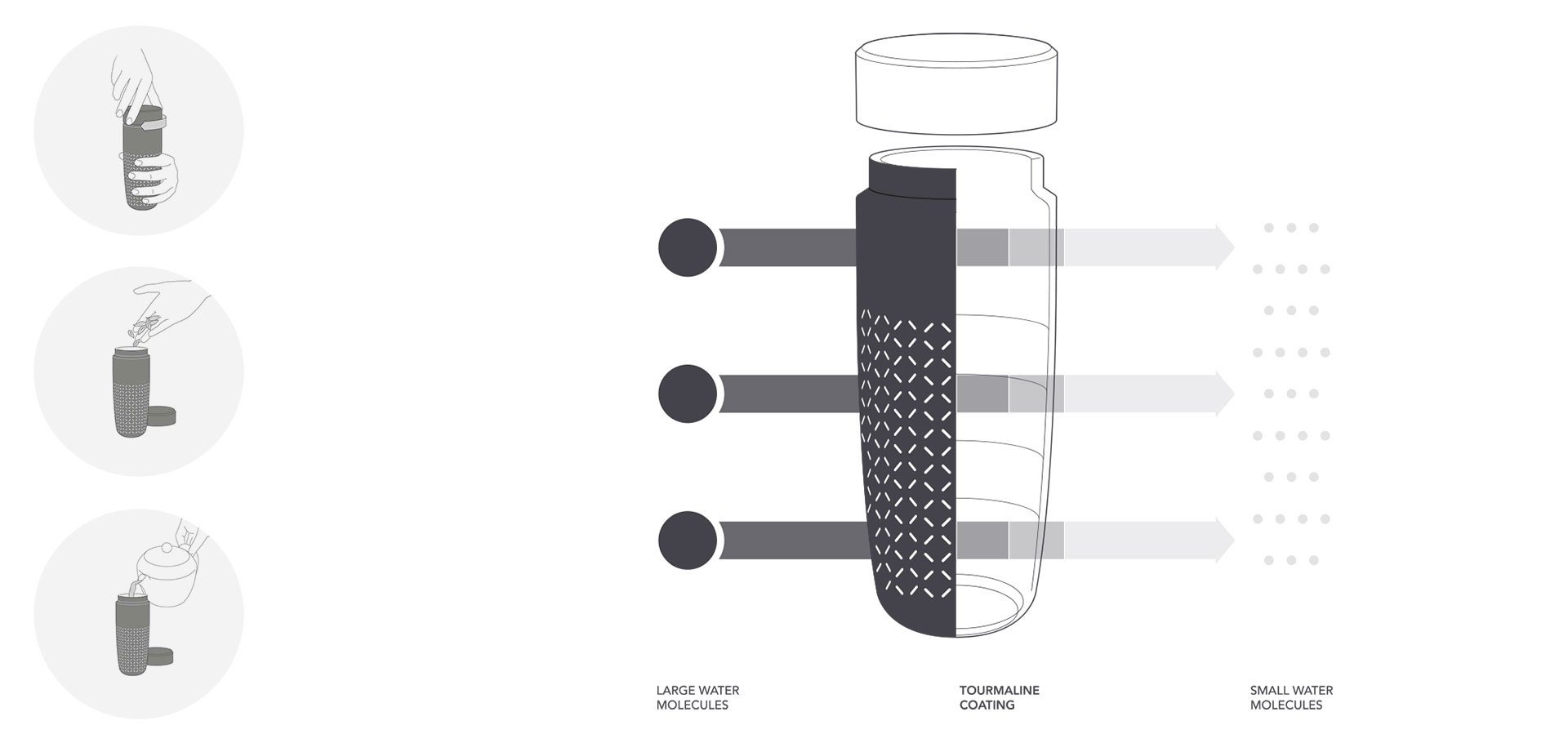 Instructions for Obtaining Maximum Benefits
Water: Pour water into the LIVEN Cup or tumbler and let sit for 1-3 minutes before imbibing to reduce chlorine odor and increase oxygen to produce a softer, purer drinking experience.
Tea: Using a tourmaline-lined LIVEN Tea Cup reduces bitterness and bolsters the tea's fragrant flavors.
Coffee: Drinking coffee in a LIVEN Cup improves taste and aroma.
Milk: Drinking milk in a LIVEN Cup brings out more flavor.
Red and white wine: Drinking wine in a LIVEN Cup adds oxygen to smooth out the taste and enhance flavor subtleties.
Beer: Drinking beer from a LIVEN cup helps to refine the foam and reduce stomach bloating while smoothing its taste.
Why ACERA?
The tourmaline Anion ceramic Tumbler contains no lead or cadmium; it is environmentally friendly and can purify water instantly. Let drinking water stand for 1-3 minutes, the smell of chlorine will reduce or disappear. Water will become ionized and more alkaline.
Drink from Ceramic! Ceramic travel Tumbler is good for all acidic beverages such as water, coffee, tea, etc...
NO PLASTIC, NO METAL
Double-wall heat insulation technology and single walled tumblers keeps liquid at desired temperatures for up to 90 minutes and comes with silicone band to protect hands with use of hot liquids. The tumblers are more durable than glass and can even be carried in a handbag or backpack
Worry-Free Travel: Acrylic & Walnut-effect wood lid twists down to form a leak-proof silicone seal. Tumblers fit comfortably into your bag or tote from home to yoga studio to office. Lids: Acrylic, Tritan TM and food grade silicon. With far infrared ray ceramic, and finely carved cultural icons, the tourmaline far infrared ceramic tumbler is convenient and fashionable for modern people.
Acera Liven Series combines modern technology and traditional techniques in its handmade engravings and paintings and is process with multiple handcrafted techniques and repeated high temperature treatment.
All products are handmade and vary slightly with how the glaze will settle.
ACERA CERTIFICATES